Albuquerque Scrap Metal Removal Services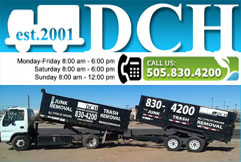 Do you have an old appliance, like a refrigerator, washing machine, or dish washer, that no longer works and you need to discard? Or maybe your business has installed some new industrial machinery and you need to remove the old machinery.
For items like this, you can't just simply put them in a garbage bag and let the trash company collect them at the end of the week. You need a company like Dave's Custom Hauling that specializes in scrap metal removal.
Scrap Metal & Appliance Pickup/Removal Services in Albuquerque
At Dave's Custom Hauling, we can handle scrap metal removal jobs of just about any size, from small appliances to industrial machinery. We have the equipment and experience to safely and efficiently remove any type of scrap metal from any location.
We recycle what we can, delivering scrap metal to local facilities that will be able to put the metal to good use. If the items can't be recycled for any reason, we'll haul them to the appropriate landfill. Either way, we save you the trouble of trying to load heavy, cumbersome metal objects into your car or figuring out how you're supposed to dispose of them.
For a free quote, contact Dave's Custom Hauling online or call us at 505-830-4200 for a free quote!
Contact Us for Scrap Metal & Old Appliance Hauling in Albuquerque
Whether you are a home owner seeking to rid yourself of old unwanted appliances or a business owner with piles of broken-down equipment, Dave's Custom Hauling can help. Just give us a call to provide us with details of what you need removed, and we will provide a free quote for our services as quickly as possible.