Albuquerque Rental Property Clean-out Services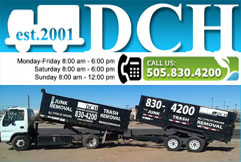 As a landlord, you understand the work it takes to maintain a successful rental property. From handling leaking ceilings when it rains to repairing plumbing problems day and night, there's a lot that goes into ensuring a property is up to par. The repairs and maintenance required when a renter is living on the premises can be demanding, but the cleanup after a renter moves out can be a challenge in and of itself.
Fast Rental Cleanup Services in Albuquerque
Every landlord has a horror story about an unruly renter who left a mess in his wake. From full refrigerators left in the kitchen to a pile of garbage left in the yard, some renters can leave unwelcome surprises that need to be dealt with before the property can be rented out again.
Need help with rental property clean-out? Contact Dave's Custom Hauling or call 505-830-4200 for a free quote!
When you're baffled by the mountain of refuse you're left with after a renter says goodbye, it's time to bring in the professionals. Dave's Custom Hauling is here to tackle any cleanup project, no matter how big or how small.
Convenient and Eco-Friendly Disposal
The scenic landscape of New Mexico is important to us, and our disposal methods are as eco-friendly and environmentally conscious as possible. If we can recycle something, we do. We'll even donate usable items to local causes whenever possible.
There's no reason to put aside your important day to day tasks to rent a dumpster and do the heavy lifting yourself. Our team has years of experience in waste removal, hauling away everything from oversized couches to electronics to flooring. When you're burdened by junk, we're here to help. Contact us for a free quote today!