Albuquerque Post Tenant Apartment Clean-up Services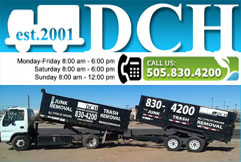 Renting apartments and homes can be a prosperous business. However, when one tenant leaves, the cleanup can be a nightmare. Instead of sorting through junk and items you'd rather not have contact with, have a professional do it for you.
Here at Dave's Custom Hauling, we handle junk removal in a quick and painless way, allowing you to move forward with finding new tenants.
Albuquerque Rental Clean-up, Junk Hauling & Trash Removal
Once your tenants have moved out and left you the keys, it is now time to go through your property and make a list of improvements or repairs needed. It is common to find broken or damaged things on the property. Although many people will clean thoroughly in hopes of a returned security deposit, some won't bother. This can leave you with a ton of work to do before your rental property or apartment can be rented once again. If this is your scenario, our junk removal company can help you.
Need help emptying a rental property? Call 505-830-4200 for a free junk removal quote.
Clean-up and Junk Removal Services
The services performed will depend on the services you need! Dave's Custom Hauling provides Albuquerque junk removal services for small cleanups and for larger ones, including appliances and even left behind furniture removals. Some of the most common services performed are:
The removal of unwanted items such as appliances and furniture
Cleaning up yard waste, including leaves, trees, shrubs and leftover construction materials.
Loading and cleaning underneath trash piles.
All you need to do is tell us what needs to be removed, and we'll load it and haul it away for you. We'll ensure that everything we take is disposed of properly, saving you the trouble and hard labor of emptying a property on your own.
If you'd like to work with a company that will allow you to run your landlord business without having to hit any snags, call Dave's Custom Hauling today to help with your post tenant apartment clean-up and junk removal needs.