Albuquerque Mattress Removal Services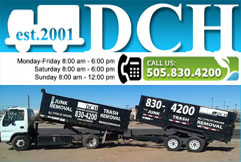 A third of your life is spent in your bed, and when your mattress is uncomfortable, it can ruin your whole day. Upgrading to a new mattress is always exciting, but figuring out what to do with your old one can be a challenge. For this reason, many homes have old mattresses stored in their garages, attics or basements, taking up space and collecting dust.
Dave's Custom Hauling specializes in junk pickup, including the removal of old mattresses.
Mattress Removal and Hauling
We've been handling junk pickup in Albuquerque for more than a decade. Our experienced team has the manpower necessary to remove your old mattress and bed frame quickly and easily, without risking any damage to your home or property.
For a free quote, call us at 505-830-4200 or message us here to schedule a mattress removal pickup!
We do all the work – no need to strain yourself by carrying your old bed to the curb. We will also ensure that the mattress is disposed of in an environmentally responsible way by transporting it to the proper recycling center.
Don't Waste Space on Unwanted Mattresses
Your friends and family probably aren't lining up at your door to take a used mattress of your hands. Instead of letting your old mattress take up space in your house or garage, let our professional mattress removal team take care of you. Out mattress removal services are inexpensive and will save you time and space.
When you're ready to get rid of your old mattress, simply give us a call. And if you have any other unwanted junk in your house or garage, let us know – we'll take that, too! Professional trash and junk removal as well as old mattress removal services is our specialty!