Albuquerque Garage Clean-out Services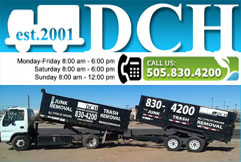 There's nothing worse than opening your garage door only to find broken bookshelves, bags of garbage, and an old refrigerator that you couldn't get rid of. If you've been putting off cleaning out the garage because you just don't know what to do with all of that extra junk, don't worry: Dave's Custom Hauling can help.
Junk Removal Services in Albuquerque
At Dave's Custom Hauling, our goal is to make you happy – and a clean garage is always a good start. Instead of getting overwhelmed by the amount of work you need to do during a garage clean out, let our professional staff make the job a little easier.
For a free quote, Call 505-830-4200 or contact Dave's Custom Hauling online.
When we show up, we'll load the junk into our truck and haul it away. Just point out what you want gone and we'll do all the heavy lifting for you. Once the junk is removed, we'll sweep up after ourselves to clear away the smaller bits of debris, leaving you with a cleaned out garage. You don't even have to break a sweat.
What Can We Haul Away for You?
In short, we haul everything except for chemicals and hazardous materials. This means that if you have any old appliances, broken book shelves, or any other kind of furniture buried in your garage or storage unit, we can haul it away for you.
If you've got any questions or want to schedule an appointment for a garage clean out, contact us. We'll be happy to provide you with a free quote!