Albuquerque Furniture Removal Services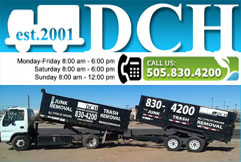 At Dave's Custom Hauling, we'll pick up your unwanted and discarded furniture and see that it stays out of New Mexico's landfills. If the piece is in decent shape, we'll take it to Goodwill or another charity outlet where it can get a new lease on life. If the piece is damaged, missing a leg or broken, we'll try to recycle whatever parts of it we can.
Albuquerque's Top Furniture Removal and Hauling Company
When you work with Dave's Custom Hauling, you're working with your neighbors. Our company is locally-owned and operated, and we've been a top hauling company in the city for more than a decade. We take pride in our efficient work and great customer service, and you can see from our reviews and testimonials that we're a name Albuquerque residents trust!
To learn more about recycling furniture with Dave's Custom Hauling, or if you have questions about our other services, give us a call. No job is too big or too small – we haul it all!
For a free furniture removal service quote, please call 505-830-4200 or message Dave's Custom Hauling here.
Furniture Clean-up and Removal
"One man's trash is another man's treasure." That can certainly apply to used and unwanted furniture. Sometimes, all it takes to get rid of an old couch or desk is setting it on the curb. But sometimes that doesn't work, and you're left with furniture like an old mattress that nobody wants with no idea how to get rid of it.
At Dave's Custom Hauling, we make recycling your unwanted furniture easy. You don't have to hope for a trash picker to come get your items. We'll come to your house and haul it away. You don't even have to carry it outside first!