Film Production Cleanup & Trash Removal Services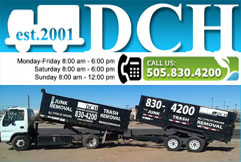 The film industry in Albuquerque is growing, and it's great news for the local economy and for putting New Mexico on the map. It also generates a lot of trash. From used set pieces and broken equipment to discarded coffee cups from the film crew, movie production trash can pile up quickly.
The team at Dave's Custom Hauling has experience in trash removal of all kinds, including film sites. Whether you need us to haul some things away from your filming location or clean up an area after the film crew has gone home, we can help!
For a free quote, call 505-830-4200 today!
Dave's Custom Hauling can handle movie production trash removal jobs of all sizes!
Albuquerque Trash Removal Services
Dave's Custom Hauling has the equipment and manpower needed to handle trash removal jobs of any size. Broken concrete, scrap metal and fallen trees are just a few of the things we haul on a regular basis. No job is too big or small; we'll haul it all!
Keeping New Mexico Beautiful
Dave's Custom Hauling is locally owned and operated in Albuquerque, and we're committed to keeping New Mexico beautiful for future generations. That means we use eco-friendly disposal methods whenever possible. If something is still usable, we try to donate it to a local cause that can put it to good use. If it's recyclable, we'll make sure to get it to the appropriate facility. We'll make sure that all of your movie production trash is taken care of responsibly so that you can get back to working on more important things – like finishing a film!
Contact Us or Call us today for a free quote or to ask any questions about our services. We look forward to hearing from you!