Albuquerque Dead Tree Removal Services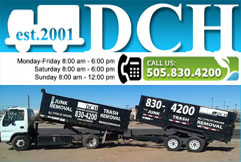 If you're looking at a lot of dead wood and wondering what to do with it all, call Dave's Custom Hauling. We'll load it up and dispose of it ourselves, saving you the hassle of dealing with it. We also offer some emergency response options for debris removal after a storm.
Tree down on your property? Call 505-830-4200 for a free quote regarding removal!
Dead Wood Hauling in Albuquerque
Fire is always a threat the forefront of every New Mexican's mind. One way to help protect your property from a fire is swiftly dealing with dead wood on the property, whether that means cutting down a dead tree or hauling away fallen limbs after a storm.
When you call someone to cut down a tree on your property, they'll often leave the tree right where it fell. Some landscaping services will haul it away, but a lot of them call a tree removal service like us to do that for them. If you have a tree down on your property, either because it's been chopped down or it's simply fallen on its own accord, give us a call. We'll be happy to provide you with a quote and arrange for clean-up of the tree and any other branches, shrubs and dead wood on your property.
Fallen Trees & Insurance Companies
When a tree falls on your roof or car, your insurance company will usually require its removal before they'll send someone out to take a look. Dave's Custom Hauling provides emergency trash services and debris removal for these situations. We'll try and send someone out right away, and we'll keep good records of the event so you can submit it to your insurer. Sometimes, we may even be able to bill the insurance company directly for our service.
If you have dead wood on your property, don't hesitate to give us a call 505-830-4200. We can also help with hauling away other types of trash and yard waste.