Albuquerque Brush Removal Services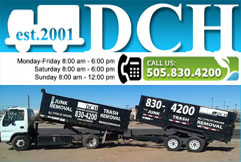 Yard work can generate a shocking amount of trash. With fires restricted throughout most times of the year, Albuquerque residents have to turn to different methods for getting rid of their tree limbs, brush, weeds and other yard waste. If you need a simple solution for tree and brush removal, call Dave's Custom Hauling.
Albuquerque Tree and Brush Removal
Tree and brush removal can be a major hassle. Regular yard maintenance can yield dozens of trash bags full of discarded material, and the municipal garbage man isn't always happy to take them off your hands. Instead of trying to stuff bags of trimmed brush into a dumpster, let our team of trash removal experts take care of it for you.
Call Dave's Custom Hauling today for a free quote 505-830-4200.
We're not a landscaping company, but we can work with you or your landscaper to get all unwanted material out of your yard. Whether you've unearthed piles of rusted junk in the yard of a property you've purchased or just have a lot of downed tree limbs, we can help. Show us what you need hauled away, and we'll work quickly to load it up and dispose of it for you.
Construction Debris Hauling
Dave's Custom Hauling has been in business since 2001, and we've become one of the top services for junk hauling in Albuquerque. Aside from tree and brush removal services, we can also help clear away construction debris or even clean up movie production trash. No matter what kind of junk you have on your property, we can haul it away.
Contact us today to schedule an appointment or request a free quote!