Albuquerque Apartment Clean-Out Services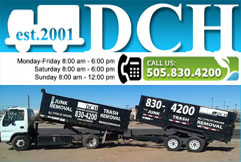 Managing an apartment isn't an easy task. You have a lot of things taking up your attention, from handling maintenance issues to collecting rent and showing units to potential new tenants. When someone moves out, you want to get that unit cleaned and ready for move-in as quickly as possible.
However, tenants aren't always reliable about emptying their units when they move out, especially if they left in a hurry. You might discover that your newly vacant apartment is filled with trash, old furniture and other junk that needs to be removed before the unit can be cleaned and shown.
Instead of dealing with this problem on your own, rely on the professional junk removal experts at Dave's Custom Hauling.
Did your last tenants leave their junk behind? Contact Dave's Custom Hauling here or call 505-830-4200 for fast and efficient clean out services.
How Can We Help You Clean Out an Apartment?
Dave's Custom Hauling has been in the business of clearing out Albuquerque's trash since 2001. We'll haul everything from used appliances and furniture to trash and yard waste. All you need to do is tell us what you need removed, and we'll put together a team that can load it up, haul it away and dispose of it responsibly.
Fast Trash Removal/Cleanup Service in Albuquerque
Time is of the essence when it comes to getting an apartment ready for the next tenant. Our professional junk removal service will save you time and let you focus on other things. We'll be happy to provide a free estimate, so call us today to discuss your needs. Customer satisfaction is a top priority, so we'll do what we can to ensure you can get the unit back on the market as soon as possible.